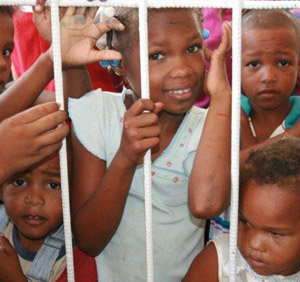 As many of you may already know, in about eight days, Nancy, Jeffrey, and I, along with twenty-one other people from my church and other St. Joseph area churches, will be embarking for the Dominican Republic to take the good news of Jesus Christ to people living in darkness there. The spiritual needs of the people are large, the trip itself a bit daunting, and the prayer needs great.
If you're reading this at "Toward the Goal", it's probable that you share the hope and faith we have in Jesus Christ. If that's the case, you'll completely understand the need for fervent prayer for this trip… Satan is every bit as real as the God we serve, and he's adamently opposed to people being used by God to reach the world with the hope of Christ. Spiritual warfare is likely, so we'll need an army of prayer warriors standing behind us as we move to the front lines to push back darkness.
So, please… believers in Christ, pray. We do have a prayer letter to help guide your prayers, so if you'd like to receive that, by all means, contact me.
If you don't have a faith-based relationship with Jesus, I pray you'd consider his very words:
John 3:13-21
13No one has ever gone into heaven except the one who came from heaven — the Son of Man. 14Just as Moses lifted up the snake in the desert, so the Son of Man must be lifted up, 15that everyone who believes in him may have eternal life.

16"For God so loved the world that he gave his one and only Son, that whoever believes in him shall not perish but have eternal life. 17For God did not send his Son into the world to condemn the world, but to save the world through him. 18Whoever believes in him is not condemned, but whoever does not believe stands condemned already because he has not believed in the name of God's one and only Son. 19This is the verdict: Light has come into the world, but men loved darkness instead of light because their deeds were evil. 20Everyone who does evil hates the light, and will not come into the light for fear that his deeds will be exposed. 21But whoever lives by the truth comes into the light, so that it may be seen plainly that what he has done has been done through God."
Jesus claimed that He was the Son of God, sent from heaven to reconcile a sinful world to God the Father. He performed miracles, signs, and wonders to prove He was who He claimed… healing people, miraculously feeding huge crowds, even raising the dead. Still, all but a few people of the time did not believe, and He was ultimately rejected and sentenced to death by crucifixion. And then something amazing happened… after suffering, dying, and being buried, He rose from the grave, conquering sin and death just as He said He would.
The question before each of us is simply this: do you believe? Will you act upon that belief by submitting your life to Jesus, repenting of sin and choosing to follow Him from that point forward?
Eternity hinges on this response.
---
Connect with me...










by


Share this post!













by