As I was wrapping up my day at work this afternoon, I got a call from Nancy. I couldn't take it at the time, so responded via text that I'd call her back as soon as I could. She texted me back that she just need to know if I could pick up Allison at her gymnastics class. I replied that I could, and that I'd call later.
Once I was on the road, I called. I had assumed she needed me to pick up Allison because it would help with our busy evening schedule. As we talked, I found I was only partially right… she needed to take Jeffrey back to the eye doctor.
I had completely forgotten that he had an appointment today, and was confused why it was so late. Nancy clued me in: she was going BACK.
Yep. Jeffrey needed glasses.
When I was 10 years old and in 5th grade, sure enough… I found out I needed glasses. Jeffrey just turned 11, and is in 5th grade. And now needs glasses.
Like father, like son.
That phrase took on a whole new life this evening as I posted a photo of Jeffrey on Facebook. Almost immediately, my sister commented:
"OMG, he looks SO much like you! Ha! I just had a major flashback!"
A little while later, my childhood best friend commented:
"I don't feel old enough to have a 25-30 year flashback like this!"
Yep. Jeffrey looks an awful lot like his Dad.
Like father, like son.
Curiosity kicked in. I dug through some of Mom and Dad's scanned photos from my childhood. Found me, circa 1986. A bit of photoshop, and…
Yep.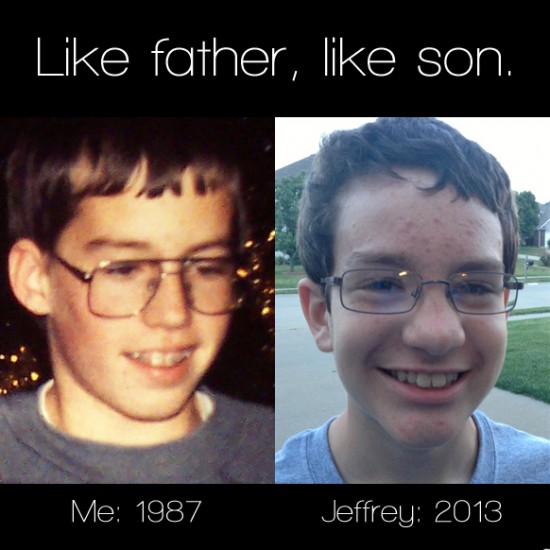 Jeffrey?
I hate to be the bearer of bad news, but…
You're not gonna like what's happening to your hair in about 25 years.
Like father, like son.
---
Connect with me...










by


Share this post!













by