20 years ago, I was a Senior in high school. Consumed with classes, hanging out with my closest friends, thoughts of graduation and college beyond.
And basketball.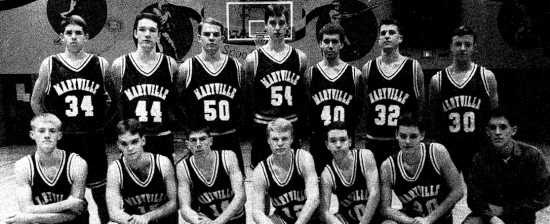 You see, that year, my beloved Maryville Spoofhounds were having their best basketball season in over 30 years. I was a bench-warmer for the most part on that team, but that was okay… we started the season on fire. State-ranked. Playing great basketball. Sure, we'd hit a rough stretch in January with three conference losses to Chillicothe and Benton… but the team was talented. Everyone knew we had a chance to do something special.
So that's where we stood on this day 20 years ago. Big hopes. Shaken a bit, but believing we could finish the season strong and compete for a chance at state.
And what a run it was. The team didn't lose again until March 18th, and our record had run to 27-4.
We were in the Missouri Class 3A Final Four. Playing in the Hearnes Center. A sea of green on one side of the arena, and a sea of red on the other, facing a talented team from Mexico, Missouri.
Our title hopes came up a bit short that night and the following afternoon. We played two very tough, talented teams, and ultimately settled for fourth place.
But we'd done something Maryville hadn't seen in a very long time from its basketball team.
So why do I reflect on this today?
Not to relive the "glory days". Sure, I was part of the team, but I was certainly not key to our success. We had a very talented Junior class behind us, one that left their own mark on Spoofhound basketball history the following year as Seniors.
I reflect on this because last week, I found out there's a team reunion in just over a month, at the Final Four in Columbia. Apparently, the Missouri State High School Athletics Association has made it a practice to recognize teams that participated in the state championships on the 20th anniversary of their appearance there. We've been invited to attend this year's championship game and have our team recognized at halftime.
Yesterday?
I spoke with one of the guys from the team. I hadn't heard from him in 19 years. Very cool to reconnect, as we're all figuring out plans for a reunion.
The point of this?
Basically that I'm excited. I haven't seen or talked to most of the guys on the team since high school. I'm looking forward to seeing them all again. I'm looking forward to reminiscing together.
But most of all?
I look forward to sharing this with Nancy and my kids.
State basketball was one of the most memorable experiences I had growing up, and being able to share that experience to some extent with my family now?
Quite honestly, it's priceless.
---
Connect with me...










by


Share this post!













by