This afternoon, Jeffrey's favorite magazine came in the mail: "Petersen's 4-Wheel & Off-Road Magazine".
We found this inside: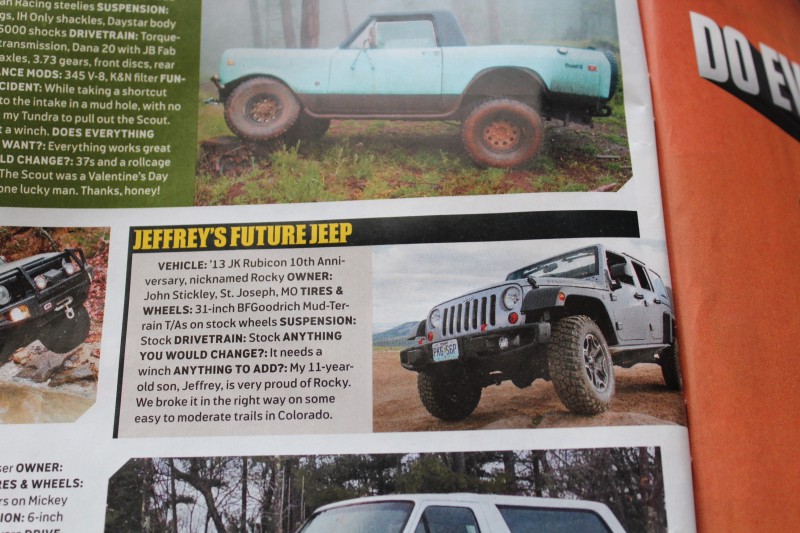 Yep. That's my Jeep.
The backstory?
Back in February, Jeffrey discovered he can send e-mail from his iPad to people outside his contact list. He sent in the photo of our Jeep to the magazine, with all sorts of information about it. I noticed the e-mail a couple days later (I monitor everything, which every good parent should do, BTW), and followed up with the magazine.
I filled them in:
I don't know who monitors this e-mail account, but you might have received the e-mail found below a couple days back from [my son's e-mail].

That would have been from my 11 year old son, who reads your magazine faithfully (and thoroughly). Tonight, I've found that he has discovered that that he can send e-mail beyond the few family contacts we've added to his contact list.

I don't know if you're interested in publishing the photo of our Jeep… it's a stock 2013 Wrangler Unlimited Rubicon, 10th Anniversary Edition. No mods. (Well, no mods yet… if Jeffrey had his way we'd have done quite a bit already).

Whatever the case, it's probably obvious that Jeffrey is VERY proud of it by virtue of the fact he took it upon himself to submit a photo from our Colorado trip this summer where we broke in "Rocky" the right way on some easy to moderate trails.

If you do want to publish any of this for some reason, let me know and I'll get you a better quality photo and whatever other information you'd like.
I gave them permission. And never heard back.
And completely forgot about it until today.
Jeffrey is excited beyond belief.
Especially with the photo title: "Jeffrey's Future Jeep".
---
Connect with me...










by


Share this post!













by