Yeah, I know the title stems from an all time great rock band, possibly from their greatest album of all time.
(If you don't know what I'm talking about, I'm not sure we can be friends.)
But it's perfectly applicable to what may be one of my new favorite animated .gifs: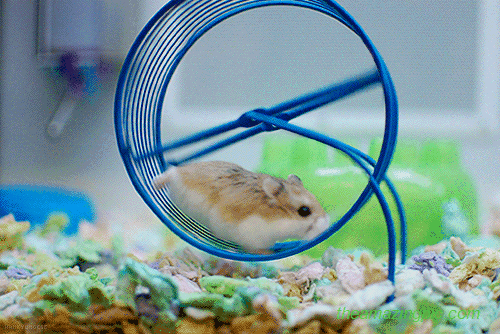 Occasionally we all experience what the poor little guy above does. Running with all you've got, getting nowhere. Giving your best effort to accomplish something, but finding no progress in sight. Struggling to find a way to try harder, do more, press on, push yourself, go go go.
All for apparent naught.
While the mental picture that comes into focus as you read this may have something to do with your job, I wonder how many of my readers (all three of you, maybe?) will think about faith.
Because the same applies there at times.
Prayer. Study of God's word. Worship. Service.
Faithfulness in doing the things that "good Christians" do, yet stagnation? Or just distance in feeling the presence of God? When all your efforts to connect with God seem to fail? When doing the right things doesn't seem to matter? When you run to God to find peace and rest and yet can't ever seem to experience it?
I don't know that there's a clear answer to those experiences, but I bet you've been there if you've been a believer for any length of time at all.
What I can give in response to this is Scripture. When hope seems fleeting, when all else seems fruitless, there's this:
Hebrews 12:1-2
Therefore, since we are surrounded by so great a cloud of witnesses, let us also lay aside every weight, and sin which clings so closely, and let us run with endurance the race that is set before us, looking to Jesus, the founder and perfecter of our faith, who for the joy that was set before him endured the cross, despising the shame, and is seated at the right hand of the throne of God.
Run the race with endurance. With perseverance. Don't quit. Keep your eyes on Jesus.
Romans 5:3-5
Not only that, but we rejoice in our sufferings, knowing that suffering produces endurance, and endurance produces character, and character produces hope, and hope does not put us to shame, because God's love has been poured into our hearts through the Holy Spirit who has been given to us.
The suffering of running the race is real. But persistence in running the race produces character… and ultimately, hope.
And hope in God, who loves us unknowably, who never fails, and never disappoints… that hope is well-placed.
Keep running.
Don't quit.
Don't give up the fight.
Run your race… even if it feels like you're standing still.
---
Connect with me...










by


Share this post!













by