I had the craziest dream last night.
I was at Kaufmann Stadium. The K. The baseball capital of Royals nation.
Walking through an almost endless parking lot of vehicles. The sweet scent of Kansas City tailgate parties hanging in the air. Echoes of laughter and baseball conversation.
Entering this baseball sanctuary, I find the K decked out for playoff baseball. "Postseason 2014" painted carefully along the first and third base lines. Red, white and blue banners hanging along the upper deck. The crown jumbotron shining bright with royal blue, displaying "Angels vs. Royals", and "#POSTSEASON". The stands, inhabited by a sea of 40,600 screaming, blue from head-to-toe fanatics. Frenzied masses waving towels, flags, and even brooms.
A beautiful national anthem, with a baseball choir in the stands singing along. A flyover. The first pitch. Deafening roar.
"BIG GAME JAMES!!!!"
"LET'S GO ROYALS!" *CLAP* *CLAP* *CLAP CLAP CLAP*
The masses fall silent as a baseball screams over the wall. 1-0 Angels.
But the Royals respond. Back to back singles. A questionable strikeout call. Boos echo. A walk.
Alex Gordon at the plate. The pitch.
*CRACK!*
An eruption of cheers! 2 runs score. Billy Butler scrambling madly toward home. He slides. "SAFE!!!"
Bedlam! High fives with strangers! Screaming so loud it hurts! Stealing a kiss with my wife!
3-1 Royals!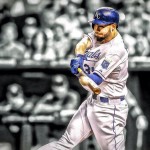 Two innings pass. Eric Hosmer at the plate. One runner on.
*SMASH!*
An impossibly long fly ball. The masses explode with joy! Opposite-field home run. Bedlam again!
5-1 Royals!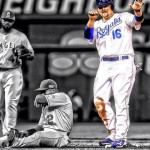 Billy Butler walks, and leads off. He steals! SAFE! Insanity at the K!
From my right, "WE'RE GOING TO THE WORLD SERIES… BILLY STOLE SECOND!"
Another inning. Another Angel home run. 5-2 Royals.
"MOOOOOOOOOSE!!!" at bat! I scream to whoever will listen. "Eric got his, now it's time for MOOOOOSE!"
*CRACK!*
A towering fly ball lands in the seats beyond the right field bullpen. Insanity ensues! 6-2 Royals!
Then 7-2!
Then 8-2!
It's happening. Royals are going to win!
Herrera. Davis. Holland.
Ballgame! Royals win, 8-3!
Rain falls, and a frenzied mass of Royals mob the mound. The crowd roars.
High fives! Hugs! Dancing! Tears! "WE DID IT!!!!" "WOOOOOOOOOO!!!"
Yes. A dream.
And a good one at that.
BUT REAL.
[All photos from @RoyalsNation.]
---
Connect with me...










by


Share this post!













by